The Center for Iberian and Latin American Music is delighted to announce the upcoming Encuentro Cubano, the fifteenth annual installment in our Encuentros/Encounters series.  Entitled Cuba:  An Island of Culture, a World of Music, it will take place April 25-26, 2019.  The Encuentro kicks off Thursday evening with a performance by the Cuban group Pablo Menéndez & Mezcla, a band that blends traditional Cuban music with U.S. pop. It will happen at the Culver Center of the Arts in beautiful downtown Riverside at 7:30p.m.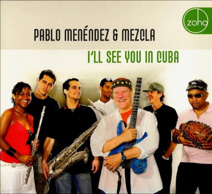 A daylong conference will take place on the 26th, bringing together ten leading scholars from the U.S., Spain, Cuba, and Puerto Rico, who will talk about a wide range of Cuban musics, contemporary and historical, traditional, popular, and classical.  The conference will be held in INTS 1128, the Screening Room, at UCR. It begins at 9 and will go to 5, concluding with a performance by UCR's Choral Society, directed by Edward Bruner, of the Requiem Mass by Esteban Salas y Castro (1725-1803).
Here is a list of conference speakers:
Joaquín Borges Triana, Cuban journalist
Mirna Y. Cabrera, Conductor and Scholar, McCook Community College, Nebraska
Leilani Dade, University of California, Riverside
Liliana González Moreno, Interamerican University of Puerto Rico
Alejandro Madrid, Cornell University
Robin Moore, University of Texas, Austin
Belén Pérez Castillo, Universidad Complutense de Madrid
Marysol Quevedo, University of Miami
Susan Thomas, University of Colorado, Boulder
Umi Vaughan, California State University, Monterey Bay
All Encuentro Cubano events are free and open to the public.