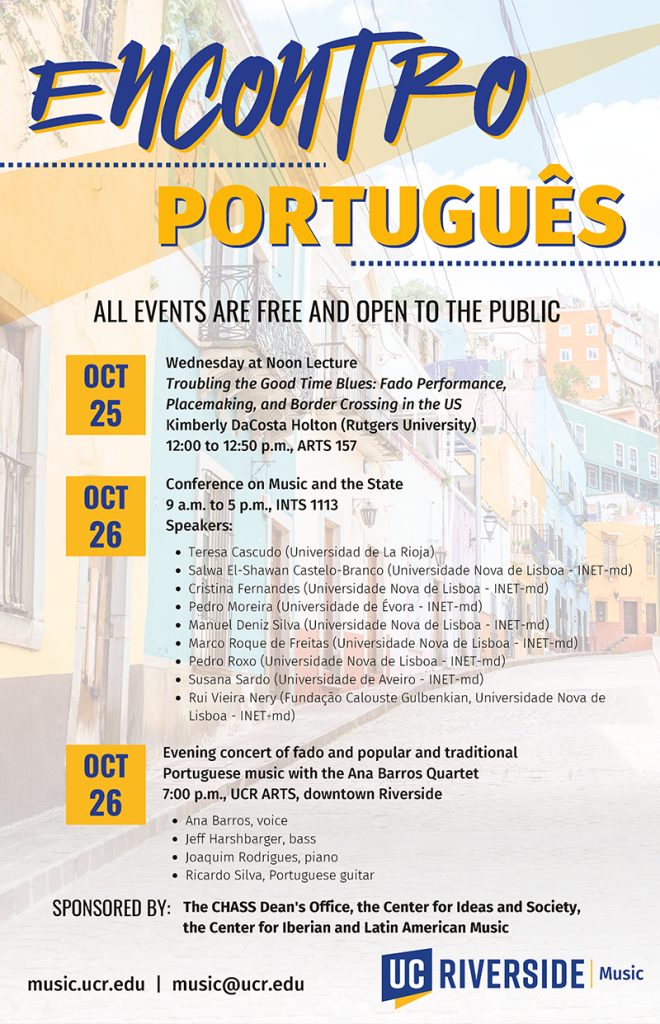 April 26, 2023, 12 noon, ARTS 157
Pianist Mac McClure will appear on the noontime Florence Bayz series to present Visions of Spain:  Piano Works by Joaquín Rodrigo, Frank Marshall, and Isaac Albéniz.  This is the opening event of the Festival Joaquín Rodrigo, honoring the legacy of the great Spanish composer.  Mac is Associate Professor of piano at National University in Bogotá, Colombia.
May 3, 2023, 12 noon, ARTS 157
The Festival Rodrigo continues with a presentation entitled Joaquín Rodrigo and Friends:  In Words and Music.  This will feature the composer's daughter, Cecilia Rodrigo, and her grandson, Santiago de Rábago León, reading passages from the maestro's voluminous writings.  After each brief reading, Spanish piano virtuosa Ana Benavides will play a piece that is relevant to the text.  Music will include works not only by Rodrigo but also Joaquín Turina and Manuel de Falla.  Ceclia Rodrigo is President of the Fundación Victoria y Joaquín Rodrigo in Madrid, and Dr. Benavides is a Distinguished Professor of Piano at the Real Conservatorio in Madrid and currently in residence at UCR as a Visiting Scholar.
May 4, 2023, 2 p.m., INTS 1113
Renowned Rodrigo scholar Javier Suárez-Pajares will present this year's Angelita Romero Distinguished Lecture on Spanish Music and Culture, with a paper entitled History as Inspiration in the Life and Music of Joaquín Rodrigo.  Dr. Suárez-Pajares is Distinguished Professor of Musicology at the Universidad Complutense in Madrid.  His talk will be followed by a reception with snacks in INTS 1111 at 3 p.m.
May 4, 2023, 7 p.m., UCR Arts, downtown Riverside
Pianist Ana Benavides and guitarist Pepe Romero will present a recital of solo works for piano and guitar, concluding with an arrangement of Rodrigo's guitar concerto Fantasía para un gentilhombre.  The composer's daughter, Cecilia Rodrigo, will give a brief pre-concert lecture exploring the blind composer's unique process of composition.
May 20, 8 p.m., University Theater; May 21, 3 p.m., University Theater
Conductor Ruth Charloff will lead the UCR Orchestra in a delightful assortment of Spanish and Latin American works, including a set of songs sung by renowned soprano and musicologist Dr. Patricia Caicedo.