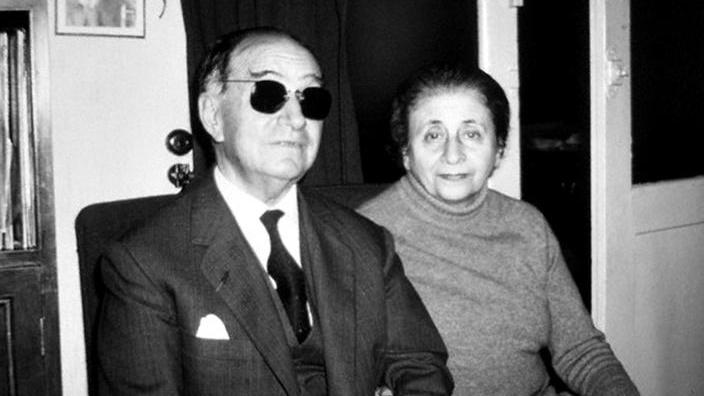 The Center for Iberian and Latin American Music at UCR has launched an initiative to create the Joaquín and Victoria Rodrigo Endowed Chair in Spanish Music and Culture.  The purpose of this endowed chair is threefold:  1) to honor one of the greatest Spanish composers in the modern era and the woman who played a central role in his career (see the biographical summary below); 2) to insure that there will be at least one professorship in the western hemisphere devoted to the investigation and promotion of the rich musical heritage of Spain in its cultural and historical context; and 3) to provide a permanent source of funding for CILAM's numerous programs and activities—concerts, lectures, and research—especially those devoted to Spanish music.
Having just reached $50,000, the Rodrigo fund will now generate interest income for CILAM. At $500,000, a term chair will be established.  The term is variable but can be of indefinite duration.  Upon reaching $1,000,000, the Joaquín and Victoria Rodrigo Endowed Chair will become a permanent reality, always to be held by a leading scholar in Spanish music and culture.
If you would like to help make this dream a reality, please make a donation using the form below. For our international friends, please follow this link to make your gift.
Joaquín Rodrigo (1901-1999) was a Spanish composer and virtuoso pianist. He was blinded by complications from diphtheria when he was three years old. Young Rodrigo studied piano and violin at a school for the blind in Valencia from the age of eight. By the age of 20, Rodrigo had matured into an accomplished pianist. His first published compositions for piano were written in 1923 and premiered a year later. He then pursued advanced studies in composition with Paul Dukas in Paris.  Rodrigo played a key role in establishing the guitar as a classical concert instrument. He is best known for his three-movement Concierto de Aranjuez(1939), the first major work composed specifically for guitar and symphony orchestra in the twentieth century. This innovative composition was created for Spanish guitarist Regino Sáinz de la Maza, who premiered it in 1940 with the Barcelona Philharmonic Orchestra. The work is now among the most well-known pieces of Spanish music, and it has been arranged for a variety of media, including jazz ensembles.  However, he was a prolific composer, and his catalog includes ballets, film scores, operettas, orchestral and choral works, piano pieces, and songs, as well as over 25 pieces for guitar.  In 1996 Rodrigo was honored with one of Spain's greatest distinctions, the Prince of Asturias Prize, awarded to a composer for the first time. Rodrigo thus joined Isaac Albéniz, Enrique Granados, and Manuel de Falla as one of the titans of Spanish music in the modern era.  In 1933 Rodrigo married a young Turkish piano virtuosa named Victoria Kamhi. She became his life-long companion and collaborator until her death in 1997. Joaquín Rodrigo died on July 6, 1999, in Madrid, Spain, and was laid to rest next to his wife in the cemetery at Aranjuez, Spain.
There could be no more distinguished name to attach to this endowed chair.  The founding donor of this fund/chair is the Fundación Victoria y Joaquín Rodrigo in Madrid, directed by Cecilia Rodrigo, daughter of the celebrated composer.
[upgm type='thermometer' unit='currency' symbol='$' total='500000' current='50000' color='#81d742']